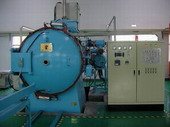 product:double-room high pressure quenching vacuumfurnace
load mode:horizontal
limit vacuum degree(pa):4×10-4or6.7x10-3

applications:
appling to the heat treatment, the machine manufacture, aerospace, etc. be suitable to the quenching treatment of material such as labor molding toolsteel, high-speed steel, stainless steel, etc. be suitable to the solidsolution treatment of material such as stainless steel, titanium, titanium alloy, etc. annealing and tempering treatment of multi-magnetic materials. also be used in vacuum brazing, vacuum sintering, etc.

.

characteristics:
1. quick cooling rate, good uniformity of cooling, perfect uniformity of temperature, small deformation after heat treatment, high production efficiency, low cost, simple operation, flexible input of programming process, stable mechanical movement.
2. soft start of air-cooled motor.
3. manual/semi-automatic/automatic control.
4. automatic fault alarm/display
5. inner circle cooling.
6. convection heating function.(optional)
©2010-2021 Abb Furnace Co.,LTD corporation all rights reserved
Address: 44, Borommaratchachonnani 70, Thanon Borommaratchachonnani, Sala Thammasop, Thawi Watthana, Bangkok, Thailand,10170.
E-mail: sales@add-furnace.com Mobile:+66(0)8-08-170-170 Tel:+66(0)2-888-3472 Fax: +66(0)2-888-3258