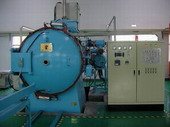 product:double-room oil quenching vacuumfurnace
load mode:horizontal
limit vacuum degree(pa):4×10-4or6.7x10-3

applications:
be suitable to the quenching of alloy steel, spring steel, and stainless steel.
be used in the sintering of magnetic materials and vacuum brazing.
characteristics:
1.quick cooling rate, good uniformity of cooling, perfect uniformity of temperature, small deformation after heat treatment, high production efficiency, low cost, simple operation, flexible input of programming process.
2. manual/semi-automatic/automatic control.
3. automatic fault alarm/display.
4 stable mechanical movement.