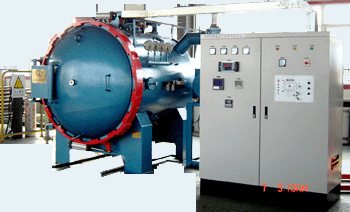 product:high pressure-high flow rate quenching vacuum furnace
load mode:horizontal
limit vacuum degree(pa):4×10-4or6.7x10-3

applications:
applying to the heat treatment, the machine manufacture, aerospace, etc. be suitable to the quenching treatment of material such as labor molding tool steel, high-speed steel, stainless steel, etc. be suitable to the solidsolution treatment of material such as stainless steel, titanium, titanium alloy, etc. annealing and tempering treatment of multi-magnetic materials. also be used in vacuum brazing, vacuum sintering, etc.
characteristics:
1. quick cooling rate, good uniformity of cooling, perfect uniformity of temperature, small deformation after heat treatment, high production efficiency, low cost, simple operation, flexible input of programming process.
2. convection heating function.(optional)
3. grading and isothermal quenching.(optional)
4. inner/outer circle.