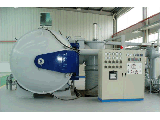 product:high temperature aluminum brazing vacuun furnace
load mode:horizontal
limit vacuum degree(pa):1×10-4

applications:
multi-functional sintering furnace is a new patented product(patent no.200520000902.1). it is a sintering and heat treatment equipment used in high performance ndfeb production line. most of sintering equipment of domestic ndfeb production line belong to vacuum quching furnaces and they are suitable to the quenching heat treatment of high speed steel and molding tool steel, as well as vacuum brazing. for many years, advanced continuous vacuum sintering furnaces have been manufactured in ndfeb, which are sintering equipment used in ndfeb production line. compared with advanced continuous vacuum sintering furnaces abroad, our products(model msf3) have identical functions.
characteristics:
1.sealed low oxidation.
2. low pollution.
3. working in vacuum, argon.
4. quick cooling of quenching.
5. no deformation of sintering basket.
6. energy saving.
7. high efficiency.
©2010-2021 Abb Furnace Co.,LTD corporation all rights reserved
Address: 44, Borommaratchachonnani 70, Thanon Borommaratchachonnani, Sala Thammasop, Thawi Watthana, Bangkok, Thailand,10170.
E-mail: sales@add-furnace.com Mobile:+66(0)8-08-170-170 Tel:+66(0)2-888-3472 Fax: +66(0)2-888-3258