fisher r632-jff
fisher r632-jff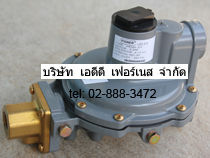 Gas Pressure Regulator:fisher r632-jff (high pressure to low pressure regulator)คู่มือ
inlet pressure:250psi

(17.6kg/cm^2

) ตารางเปรียบเทียบหน่วย
outlet pressure range: 0.3~0.46psig (

22~32mbar

) ตารางเปรียบเทียบหน่วย
inlet & outlet connections: 3/4" fnpt
capacity btu/hr propane:750,000
origin: U.S.A
brand: fisher
type r632 fisher r632-jff (high pressure to low pressure regulator) is an underwriter's labories(ul) listed regulator with a capacity of up to 750,000bti/hr,is recommende for on-site cylinder installations, mobile homes and domestic installations, where separation of the first and second-stage is not cost effective. this unit offers a pol inlet connection for the easy drop-in replacement of single-stage reulators.
the r632's high capcity relief valve and large 3/4" screened vent limit downstream pressure to less than 2 psig(0.14bar ) in an overpressure situation as required by nfpa58,type r632 is adjustable from 22 to 32mbar, with a factory set point of 27mbar.

the r632 has 1/8" npt built-in gauge taps, orificed to a no,54 drill size, on the upstream and downstream sides.these taps provide easy access for testing the proper operation of the first and second-stage while the system is pressurized. this regulator also features a large 3/4" drip-lip vent to reduce the chance of blockage byfreezing rain or sleet when properly installed with the vent pointing down.
Related Links: