ignition unit
ignition unit
Made in Taiwan 100%,Thailand Agent100% Add Furnace Co.,Ltd.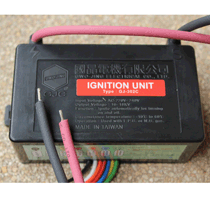 product name:ignition unit
Type: GJ-302C
Input Voltage:AC220V
Output Voltage : 18KV minlmum
Auto: on and off igniton
Circumstanes temperature : -10 'C to 60'C
PRICE: 1999Baht include 7%
Applications: L.P.G. and Nature gas. Oil.Etc for Infrared Gas Burner
1.Ignition UnitInput voltage:AC-220V~240V, 50/60Hz.
2. Output high voltage for igniting:16~18KV.
3. The Solenoid should be at working condition while ignition.
4. The igniting action will be stopped accordingly while the Main Fire is burning. The igniting
action will start again automatically if the Main Fire is extinguished.
5. Both the Igniting Pilot Light and Burning Pilot Light will follow on or off in accordance with
their own operation.
6. The Main Fire Solenoid should be shut itself and warning if the igniting time is more than 22
seconds (approx.). May have an Alarm device or a Caution Pilot Light to show the warning.
7. This Igniter can match the Temperature Controller together to make an excellent automatic
temperature control.
Ignition Unit FITTING GUID
1. The High voltage wire for igniting and the Flame sensor wire must be connected with the Igniting
Rod and the Flame Sensor Rod.
2. Both the high voltage wire and Flame sensor wire should keep clean and dry to prevent from poor
insulation or ELECTRICAL leakage.
3. Both the Igniting Rod and Flame sensor wire should keep clean and dry to prevent from poor
insulation or ELECTRICAL leakage.
4. Both the Igniting Rod and Flame Sensor Rod are prohibited to ignite themselves same time, or
should spoil the circuit of sensor system.
5. The Flame Sensor Rod and flame must have proper match to assure of a perfect burning, so the
flame if waved, floated or unsteady is not allowed.
6. The earth wire of the Igniter must have good access direct to the ground.
7. The heated temperature of high voltage igniting wire is not allowed more than 100degree Celsius.
(The maximum temperature for the wire material is 160degree Celsius.)
8. The ambient temperature for fitting the Igniter should be less than 50degree Celsius. The best
distance between the igniting rod and the nozzle of Gas Burner is 3.5~5mm.
9. The Igniter is available for the small fire Gas Burner with LPG or city gas. The Gas Burner
must have a Blower to blast air mixed with gas.
Related Links:
Gj 1602 Flame Rod Stainless steel

Gj 1203 Ignition Rod