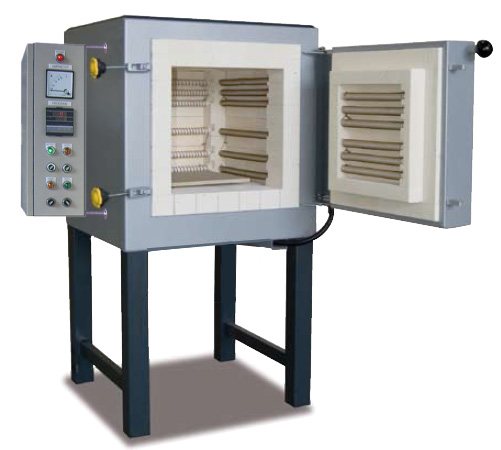 the electric furnace have been trusted for many years as professional chamber furnaces for the laboratory. these furnaces are available with either a robust insulation of light refractory bricks or with a combination insulation of refractory bricks in the corners and low heat storage, quickly cooling fibre material . with a wide variety of optional equipment, these models can be optimally adapted to your processes.


tmax 1200 °c, 1300 °c, or 1400 °c


5-sided heating for very good temperature uniformity


heating elements on support tubes ensure free heat radiation and a long service life


protection of floor heating and flat stacking surface provided by embedded sic plate in the floor


lh models: multilayered, fibre-free insulation of light refractory bricks and special backup insulation


lf models: high-quality fibre insulation with corner bricks for shorter heating and cooling times


door with brick-on-brick seal, hand fitted


short heating times due to high installed power


side vent with bypass connection for exhaust pipe


self-supporting arch for high stability and greatest possible protection against dust


quick lock on door


freely adjustable air slide intake in furnace floor


stand included
chamber dimension

width x hight x depth
<1> w300 x h300 x d400
<2> w360 x h345 x d460
<3> w350 x h500 x d250
<4> w390 x h525 x d460
<5> w450 x h500 x d500
<6> w500 x h550 x d710
<7> w510 x h600 x d600
if chamber stand dimension don't have it ,we are support for your!